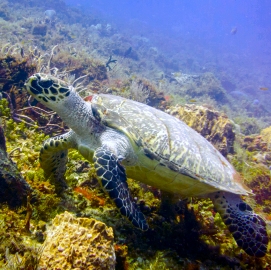 The Great Mayan Reef
The Mesoamerican Barrier Reef System (MBRS), also popularly known as the Great Mayan Reef is the marine region that stretches from Isla Contoy at the tip of the Yucatan Peninsula down to Belize, Guatemala and the Bay Islands of Honduras. This reef system includes various protected areas and marine parks, such as the Cozumel Reefs National Park.
The MBRS is home to more than 65 species of stony coral, 350 species of mollusk and more than 500 species of fish! Numerous species live in the reef system which are endangered or under some degree of protection, including: sea turtles (Green turtle, Loggerhead Sea Turtle, Leatherback turtle, and the Hawksbill turtle), the Queen Conch, the Splendid toadfish (endemic to Cozumel) the Nassau grouper, Elkhorn coral, and black coral just to name a few.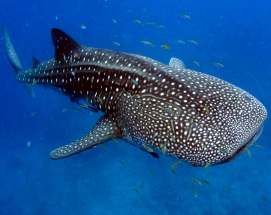 A few large areas in the north of the reef system near Isla Contoy in the Mexican Caribbean are temporarily home to the largest fish on the planet, the Whale shark. The normally solitary whale sharks congregate in the hundreds there in numerous social groups to feed yearly during the Summer months.
Whale sharks swim near the surface where large concentrations of food are found. Often accompanied by schools of manta rays, whale sharks are filter feeders and feed mainly on plankton. Generally considered harmless to humans, whale sharks are gentle and younger specimens often play with swimmers and divers. Swimming with the biggest fish in the world is truly a breath taking experience. Come see it for yourself!